INTRODUCTION 
The Initiative on Race, Gender and Globalization at Yale (IRGG) was established at the beginning of the academic year 2004-2005 with the support of the Office of the Provost. The primary goals of the IRGG are to internationalize the undergraduate and graduate curricula through scholarly spaces that foster intellectual exchange across geographic borders and political perspectives. Both in his speech "The Internationalization of the University" and in his Baccalaureate Address "Life on a Small Planet," President Levin speaks about the global university and the importance of working across political and geographic boundaries in our contemporary world. He notes in his Baccalaureate Address that, "this nation has suffered through much of its history from isolation and insularity." To often," he notes, "our leaders have been insufficiently mindful of how America is perceived throughout the world."
For the past 5 years the IRGG has committed itself to organizing and sponsoring colloquia, conferences, events, and speakers that not only address issues of national "isolation and insularity," but also challenge the Yale University community to think transnationally and cross culturally about politics, the arts, economics, and history.
RACIAL FORMATIONS: THINKING AT THE LIMIT
During the 2008-2009 academic year the IRGG continued to build on its cosmopolitan mission by bringing several scholars of international acclaim to the Yale University campus and by sponsoring public lectures and scholarly roundtables. Along with delivering public lectures for the Yale community, this year's invited speakers participated in roundtable discussions on their scholarship in Professor Carby's graduate seminar "Racial Formations: Thinking at the Limit."
We began the academic year by hosting Jennifer Morgan, Associate Professor of Social and Cultural Analysis at New York University. Professor Morgan's scholarship examines early African American history, comparative slavery, and histories of racial ideology. On September 15, Professor Morgan delivered a public lecture titled "Statistics, Sex, and Slavery: Women in British Colonial Slave Societies." Professor Morgan organized her presentation "around questions of demography, the social historical project of writing black women into the history of the early modern Atlantic, and the lived experiences of enslaved women in and around the 17th and early 18th century trans-Atlantic Slave trade." She noted that her "point of departure is the presence and absence of enslaved women in Eltis, Behrendt, Richardson and Klein's Trans- Atlantic Slave Trade Database" because she is "interested both in the early modern origin of demography and the persistence with which black women are written out of demographic data." Professor Morgan's presentation not only offered the Yale community new information on the lives of seldom archived subjects, but her research also prompted scholars to question the precarious relationship between institutionality and historical archives.
THE OTHER SKIN: TOUCH, CAPITALISM, AND SLAVERY IN ENLIGHTENMENT AMERICA
Following Professor Morgan's visit to Yale, the IRGG hosted Mark Smith, Carolina Distinguished Professor of History at the University of Southern Carolina. Professor Smith writes in the areas of nineteenth-century American history, slavery, and the relationship between industrial technologies and labor. His publications include but are not limited to Mastered by the Clock: Time, Slavery, and Freedom in the American South; Debating Slavery: Economy and Society in the Antebellum South; and How Race is Made: Slavery, Segregation, and the Senses.
Professor Smith's most recent scholarship concerns itself with the vibrant area of the senses. His research investigates the ways scholars can use ocularity, olfaction, hearing, touch and taste to think and write about the past and historical causation. On September 22, Professor Smith delivered a public lecture titled "The Other Skin: Touch, Capitalism, and Slavery in Enlightenment America." In this presentation, Professor Smith raised a number of thought- provoking questions that prompted the Yale community to think not only about the construction of history, but also the primacy of ocularity in the shaping of American history.
He argued that "an inclination to visualize skin, to focus on its constructed color dilutes an understanding of the way skin functioned as a tactile mediator between slavery, capitalism, and humanitarianism in antebellum America." In order to move beyond the problem of visuality, he asked the following questions: "What were the various meanings of tactility? How did they elaborate and define slavery, distinguish it from freedom, and serve to underwrite Enlightenment concerns themselves considered largely visualist with capitalist market relations and the humanitarian sensibility?" Professor Smith's attempt to think against visual imperatives shed new light on the idea of history and on the nature of historical evidence. His presentation illustrated innovative ways to re- imagine the past.
DAPHNE BROOKS ON THE NOISETTES
Following Professor Smith's visit to Yale, the IRGG hosted Professor Daphne Brooks, Associate Professor of English and African American Studies at Princeton University. Professor Brooks writes in the areas of African American literature, popular culture, and performance. Her most recent scholarship addresses black performativity and includes a volume titled Bodies in Dissent: Spectacular Performances of Race and Freedom. On September 29, Professor Brooks delivered a public lecture titled "The Noisettes: Black Female Singers and Sonic Afro-Feminist Praxis." In her presentation, Professor Brooks asked, "what does black feminist "noise" sound like and what are the ways that we might begin to read black female vocality and musical performance as avant-garde praxis [and] as a challenge to the symbolic order?"
Her presentation considered "the work of African American female musicians and singers as subcultural style that stresses the sonic poetics of "deformity, transformation and Refusal." Ultimately, she aimed to "re-situate black women's popular music performance aesthetics within the broader context of black feminist theater culture…[and explore] the potential to utilize sonic Afro-feminist paradigms as methods for (re)reading intersectional representations of the black female body."
JAYNA BROWN: BODILY DYSTOPIAS AND THE UTOPICS OF RACE
After Professor Brooks' visit to Yale, the IRGG hosted Jayna Brown, Assistant Professor of Ethnic Studies at the University of California, Riverside. Professor Brown researches in the areas of performance theory and culture in the United States and in the African Diaspora. Her most recent book is titled Babylon Girls: Black Women Performers and the Modern Body. On October 6, Professor Brown delivered a talk titled, "The Human Project: Bodily Dystopias and the Utopics of Race." In her presentation, Professor Brown suggested that in "current critical dystopias, bodies are both the locus for terror and the site for utopian possibility. Race is potentially rendered obsolete in these other-bodily projections, yet in many science fiction dystopias racialized subjects are the source for and agents of change."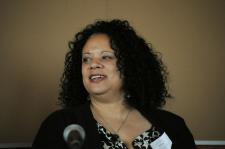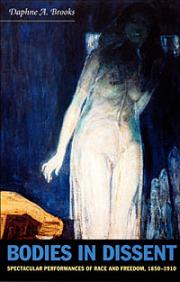 Brown made her argument in the context of recent science fiction films, focusing particularly on 28 Days Later (Boyle, 2002) and Children of Men (Cuaron, 2006). She noted that "apocalypse, in both films, is the result of mass bodily affliction (male sterility in Children of Men, a virus in 28 Days Later) and black women protagonists are the crucial rehumanizing force, responsible for the survival of humankind." Professor Brown argued that "while these narratives engage familiar primitivist tropes in their utopian vision, they also signal a deep collective desire for paradigmatic shifts in our racial and socio-political imaginings." Professor Brown's presentation was followed by a book talk at Labyrinth Books. The IRGG and Labyrinth Books jointly sponsored this event. The talk focused on Professor Brown's book Babylon Girls, and it was moderated by Professor Hazel Carby.
IVY WILSON: TRANS-NATIONAL IDEALITY
After Professor Brown's visit to Yale, the IRGG's next speaker was co-hosted with the Program in Ethnicity, Race, and Migration. Ivy Wilson, Assistant Professor of English at Northwestern University, writes in the areas of comparative black diaspora cultures and African American literature and culture. Wilson writes in the areas of comparative black diaspora cultures and African American literature and culture.
On October 13, Professor Wilson delivered a public lecture titled "Love for the Race: Trans-National Ideality from the Age of the New Negro to Blaxploitation." In his presentation, Professor Wilson argued that "by contextualizing the invocations of Ethiopia–as classical, mythic, or anti- colonial," his project aimed to illuminate "a split in the ontology of the category "African American," one that compels it to be registered as either a dialectic or an antinomy."
KATHERINE MCKITTRICK ON SYLVIA WYNTER
After Professor Wilson's visit to Yale, the IRGG hosted Katherine McKittrick, Professor of Women's Studies at Queens University. Professor McKittrick researches in the areas of black studies, cultural geography, and gender studies.
Her publications include Demonic Grounds: Black Women and the Cartographies of Struggle and a recently published anthology titled Black Geographies and the Politics of Place. The latter represents an important theoretical intervention and account of the relationship between spatialization and politics.
On October 20, she delivered a public lecture titled "Axis Bold as Love: On Sylvia Wynter, the Science of the Word, and More Humanly Workable Geographies—A Working Paper." In her presentation, Professor McKittrick explored "the ways in which the intellectual history of the black diaspora contributes to what… [she] calls more humanly workable geographies." Her presentation departed from the seldom-examined work of Caribbean intellectual Sylvia Wynter in order to question what Professor McKittrick called the "normative conceptions of human geographies."
DARBY ENGLISH: ABSTRACTS OF INTIMACY 
Following Professor McKittrick's visit to Yale, the IRGG, in collaboration with History of Art, hosted Darby English, Associate Professor of Art History at the University of Chicago.
Professor English writes in the areas of modern and contemporary art, cultural studies, and art theory and criticism. He has written numerous publications in the field of art history. His recently published book How to See a Work of Art in Total Darkness re-visits key debates concerning African American art in order to question the inclination to interpret art produced by black artists as naturally in dialogue with the issues of race and politics. On October 27, he delivered a public lecture titled "Abstracts of Intimacy." Through an examination of a set of exhibitions in New York and Houston organized in 1971, Professor English considered the "experimental, multiracial sociality in which many abstract art practices thrived in the late- sixties and early-seventies U.S." He noted that his main concern lied in "the implications that this moment may have for our histories of late modernist aesthetics and black cultural politic…and, more broadly, for our conceptualization and occupation of the terrain those histories share."
ALEXANDER WEHELIYE: IDEOGRAMMATICS AND PHYSIOGNOMY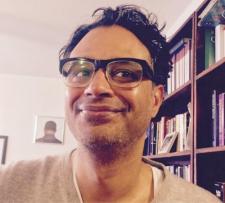 After Professor English's visit to Yale, the IRGG hosted Alexander Weheliye, Associate Professor of English and African American Studies at Northwestern University. Professor Weheliye researches in the areas of Diasporic Literature and Culture, Critical Theory, and Popular Culture. He has published numerous publications in these areas, and his book Phonographies: Grooves in Sonic Afro- Modernity won the Modern Language Association's William Sanders Scarborough Prize for Outstanding Scholarly Study of Black American Literature and Culture. On November 3, he delivered a public lecture titled "Ideogrammatics and Physiognomy."
The talk was taken from his current project on the use of visual materials in the works of W.E.B. Du Bois and Walter Benjamin. He argued "for a pivotal link between 'artistic' and 'scientific' visual prototypes in Du Bois's and Benjamin's analytics of civilization, each of which deploys and embraces the latest developments in statistical graphics and photography while concurrently exposing the limitations of these systems." He concluded that "Du Bois's early engagement with and turn away from and Benjamin's later deployment of social scientific methods is marked by a commitment to the historical as it is embodied in visual forms inasmuch as it eschews the progressive presentism often found in the sociological discourses of the period."
ANTHONY FOY: KATHERINE DUNHAMS TOUCH OF INNOCENCE 
Following Professor Weheliye's visit to Yale, the IRGG hosted Anthony Foy, Assistant Professor of English Literature at Swarthmore and 2008-2009 Scholar-in-Residence at the Schomburg Center for the Study of Black Culture. Professor Foy specializes in black literary and cultural history, in particular, the black American novel, black American autobiography, and post- Civil Rights black culture. In his current work, Professor Foy analyzes African American autobiography from 1877-1965, focusing on issues of class and visual culture. On November 10, he delivered a public lecture titled "Dust Wheel in the Ruins: Katherine Dunham's Touch of Innocence."
In his presentation, Professor Foy noted that "although renowned as a dancer, choreographer, anthropologist, and activist, the late Katherine Dunham is less well- known as an autobiographer." His presentation sought to correct this issue by situating "Dunham's under examined narrative, A Touch of Innocence (1959), in critical relation to the racial uplift conventions that dominated the production of black autobiography for much of the twentieth century." He contended that Dunham's narrative departs from the normative constraints of black autobiography in the twentieth century by refusing "to offer a teleology of Dunham's successes."
NIKHIL PAL SINGH: RACE AND WAR IN US GLOBALISM
After Professor Foy's visit to Yale, the IRGG hosted Nikhil Pal Singh, Family Professor of History at the University of Washington. Professor Singh writes in the areas of African American history, American history, and transnationalism. His publications in these areas are numerous. They include books such as the groundbreaking Black is a Country: Race and the Unfinished Struggle for Democracy, which explores the African American Civil Rights Movement within an international context. On November 17, he delivered a public lecture titled "An Exceptional Empire: Race and War in US Globalism." His presentation explored "the reciprocal relationships between race, racism and war making in US political culture since WWII, with an emphasis upon the period since 9/11." In particular, his presentation aimed to "unravel the paradox by which US wars are simultaneously legitimated in anti-racist terms and productive of new logics of racial abjection."
DENISE FERREIRA DA SILVA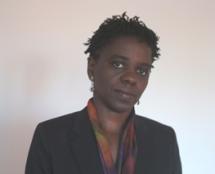 Following Professor Singh's visit to Yale, the IRGG hosted Denise Ferreira da Silva, Associate Professor in the Department of Ethnic Studies at the University of California, San Diego. Professor da Silva writes in the areas of philosophy and ethnic studies. Her scholarship is uniquely positioned to examine both questions of ontology and racialization. In her book Toward a Global Idea of Race, she undertakes the difficult task of interrogating how knowledge of race and relations of power produce global space. On December 1, she delivered a public lecture titled "Rivers of Blood: Raciality, Violence, and the Possibility of Global Justice." Her lecture attempted "not to produce another account of the ways in which racial subaltern subjects are excluded." Instead, she sought to "indicate how the privileging of raciality in critical works may help us to identify the necessary tools that will reconfigure the ethico-juridico terrain within which the "other of Europe" is always already positioned as an affectable "I," that is, modern beings that are with/out law and morality."
VIVEK BALD: AT THE LIMITS OF DIASPORA? 
Following Professor da Silva's visit to Yale, the IRGG hosted Vivek Bald, Assistant professor of Writing and Digital Media at the Massachusetts Institute of Technology. Professor Bald researches in the areas of diaspora theory, cultural studies, and history. Professor Bald is also a filmmaker whose films include the highly acclaimed documentary Mutiny. At the moment, he is at work on a project that focuses on South Asian immigration prior to 1965, a project that will reinvigorate the ways we think about South Asianess, kinship, and diasporicity.
On December 8, Professor Bald delivered a public lecture titled "At the Limits of "Diaspora?" Indian Muslims in New Orleans and Harlem, 1890-1950." He noted, "The popular image of South Asians in the United States has for many years centered on the generation of professionals who came from India and Pakistan after changes to the immigration laws in 1965, who over the 1970s and 80s largely assimilated into middle-class white suburban American life, while maintaining links to culture and religion in the form of ethnic associations, businesses, newspapers, parades, etc. This focus not only masks the changing class and regional composition of South Asian populations in U.S. cities, but obscures the histories of South Asian labor migrants who came to the U.S. prior to 1965.
One of the largest unacknowledged populations of South Asian migrants in this earlier period consisted of Bengali Muslim maritime workers and small traders/peddlers, thousands of whom moved in and out of Atlantic and Gulf coast ports in the period from the late- nineteenth to the mid-twentieth century. This talk will explore the lives and trajectories of the dozens of these men who settled and married within working-class communities of color in U.S. port cities - who "assimilated" into African American and Black Creole neighborhoods in New Orleans in the 1890s-1910s, and Puerto Rican and African American neighborhoods in Harlem in the 1920s-40s.
RACIAL FORMATIONS: THINKING AT THE LIMIT
The IRGG concluded the academic year by sponsoring a symposium – 'Racial Formations: Thinking at the Limit' – dedicated to continuing the conversation about the field of 'Racial Formations' inaugurated by Professor Carby's graduate seminar 'Racial Formations: Thinking at the Limit' during the fall semester. The symposium was guided by an attempt to question the articulation of race in our global world; and, it was composed of three panels —'Racial Formations and the Politics of Sound,' 'Racial Formations in a Biotechnological World,' and 'Racial Formations on New Fronts'—that featured senior professors, junior professors, and graduate students.
Presenters and respondents were drawn from Yale University, the London School of Economics, New York University, among other research institutions. Presenters were asked to submit their papers in advance in order to encourage critical dialogue among the, respondents, and audience members. Sponsors for the event included: The Whitney and Betty Macmillan Center for International and Area Studies and the Department of African American Studies.
On December 11, Professor Paul Gilroy delivered the keynote address for the symposium. Titled 'Could you Be Loved: Anti-Racism and Human Rights,' Professor Gilroy's address traversed through discourses of music and political theory to construct a genealogy of global anti-racist postures. Professor Gilroy is Anthony Giddens Professor in Social Theory, and his intellectual background encompasses literature, art, music, cultural history, and social science. He is author of recent publications such as Black Britain: a Photographic History and Postcolonial Melancholia, both of which interrogate racial formations in relation to migration and immigrant histories.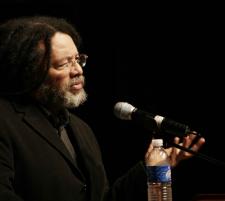 The symposium took place on the following day, December 12. Students from Professor Carby's graduate seminar 'Racial Formations: Thinking at the Limit' introduced the panelists and their respondents. The first panel- 'Racial Formations and the Politics of Sound'- included Professor Michael Ralph and Cam MacKellar, Ph.D. Candidate. Professor Ralph is Assistant Professor in the Department of Social and Cultural Analysis at NYU. His scholarship labors at the intersection of neoliberalism, globalization, postcolonialism, and diaspora within the national contexts of the US and Senegal. For the symposium, he delivered a presentation titled "Thief's Theme," which explored the problem of governmentality and race.
Cam Mackellar is a PhD candidate in the History Department at the University of Sydney. His dissertation "Marvelous and Tragic Symphony: African American Soldiers and the Soundscape of World War One" examines the formation of individual and collective racial identities through an analysis of the listening practices of African American soldiers on the western front. For the symposium, Mr. Mackellar delivered a presentation titled "Listening Through the Noise: Sonic Competence and Black Identity on the Western Front and at Home, 1917-1919. MacKellar's presentation delved into the relation of race to the aurality of warfare.
Professors Michael Veal and Reginald Jackson, both from Yale University, responded to the first panel. Professor Michael Veal is Associate Professor in the Department of Music. His scholarship engages topics such as biography, history, analysis, and interpretation in various musics of Africa and the African diaspora. Professor Reginald Jackson is Assistant Professor of Theater Studies and East Asian Languages and Literatures. His manuscript "Midare Performance and the Aesthetics of Decomposition" examines tropes of degenerescence in relation to conceptions of virtuosityinmedievalJapanesedance-dramaand calligraphy.
The second panel- 'Racial Formations in a Biotechnological World'- included Professors Charles Briggs and Alondra Nelson. Professor Briggs's is Alan Dundes Distinguished Professor in Folklore at UC Berkeley. His scholarship focuses on linguistic and medical anthropology, social theory, modernity, citizenship and the state, race, and violence. He studies the tension between modernity and traditionality as socio- political processes in performance, focusing on jokes, proverbs, legends, myths, anecdotes, gossip, curing songs, and ritual wailing, along with how constructions of language and tradition have shaped the politics of modernity. He is author of numerous books including Stories in the Time of the Cholera: Racial Profiling During a Medical Nightmare. For the symposium, Professor Briggs presented a paper titled "Out of the Loop: How Race Figures in the Mediatization of Biomedicine." This paper focused on news coverage of health, race, and governmentality.
Professor Nelson is Assistant Professor in American and African American Studies at Yale University. Her research interests include the historical and socio-cultural studies of science, technology, and medicine; racial formation processes in biomedicine and technoculture; social movements; and social and cultural theory. She is co-editor of Technicolor: Race, Technology, and Everyday Life and is currently completing Body and Soul: The Black Panther Party and the Politics of Race and Health, a book about African American advocacy around issues of genetic disease, medicalized models of social unrest, and health disparities. Her current research is an ethnographic study of traditional and genetic "root-seeking" and the implications of these practices for contemporary understandings of race and ethnicity, diaspora, ancestry, and memory. For the symposium she presented a paper titled "The Factness of Diaspora." This paper engaged the emergent relationship between genetic science and the practice of root-seeking by African Americans.
Professor M. Kamari Clarke and Carlos A. Miranda, both from Yale University, responded to the second panel. Professor Clarke is Associate Professor of Anthropology and research scientist at the Yale Law School. Her recent articles and books have focused on religious and legal movements and the related production of knowledge and power, including the 2004 publication of Mapping Yoruba Networks: Power and Agency in the Making of Transnational Communities, the 2006 co-edited publication of Globalization and Race: Transformations in the Cultural Production of Blackness, and her forthcoming book Justice in the Making: The International Criminal Court and the Cultural Politics of Human Rights.
Carlos A. Miranda is a doctoral student in the Departments of American and African American Studies, and he is also Project Assistant for the IRGG. His areas of specialization include African American and American Studies, Science and Technology Studies; Science fiction; Bioart; and Critical Theory. His research situates itself at the intersection of legal, politico-economic, and bioethical debates over already existing and emergent biotechnologies. In particular, his research engages the intersection of neoliberal capital, the body, and the life sciences in the contexts of popular culture, law, and the arts.
The third and final panel- 'Racial Formations on New Fronts' - included Professors Vron Ware and Jafari Allen. Professor Ware is a Research Fellow at the Open University in the Department of Sociology. For the past twenty-five years her work has examined questions of race and culture in contemporary Britain, both as a journalist and an academic. In her most recent book Who Cares About Britishness? A Global View of the National Identity Debate, her research draws on conversations with young people in South Asia, East Africa, Ireland and the UK, exploring questions of belonging, exclusion, historical memory, transnational identity and citizenship in different national and urban contexts.
For the symposium she presented a paper titled "The New Public Literary Front: Public Diplomacy and the Cultural Politics of Reading the Middle East." This paper explored emergent literatures and how they operate as a particular kind of commentary on contemporary racializing and gendering processes.
Professor Allen is Assistant Professor at Yale University. He is jointly appointed in the Departments of African American Studies and Anthropology and researches in the areas of queer sexuality, gender, and transnational blackness. He teaches courses on the cultural politics of race, sexuality, and gender in black diasporas, black feminist queer theory, critical cultural studies, and ethnography. Professor Allen's forthcoming critical ethnography, ¡Venceremos?: Sexuality, Gender and Black Self-Making in Cuba, marshals a combination of historical, literary, and cultural analysis to show how black men and women strategically deploy, re-interpret, transgress and potentially transform racialized and sexualized interpellations of their identities, through "erotic self-making." For the symposium, Professor Allen presented a paper titled "Erotics and Politics of Black Cuban Self- Making," which engaged the problems of race and sexuality in modern Cuba.
Professors Matthew F. Jacobson and Amina El-Annan, both from Yale University responded to the final panel. Professor Jacobson is Professor of American Studies and History. His teaching interests are clustered under the general category of race in U.S. He is the author of What Have They Built You to Do?: The Manchurian Candidate and Cold War America; Roots Too: White Ethnic Revival in Post-Civil Rights America; Barbarian Virtues: The United States Encounters Foreign Peoples at Home and Abroad, 1876-1917; Whiteness of a Different Color: European Immigrants and the Alchemy of Race, and Special Sorrows: The Diasporic Imagination of Irish, Polish, and Jewish Immigrants in the United States. He is currently at work on a project titled Odetta's Voice and other Weapons: The Civil Rights Era as Cultural History. His interests include postcolonial literature, third world feminist theory, Islam and Modernity, Arab American and Muslim American communities, and responses and representations of September 11th in popular and literary culture.
Professor Saidiya Hartman delivered the symposium's closing remarks. She is Professor of English, Comparative Literature, and Women's and Gender Studies at Columbia University. Her fields of interest are African American and American literature and cultural history, slavery, law and literature, and performance studies. She is on the editorial board of Callaloo. She has been a Fulbright, Rockefeller, Whitney Oates, and University of California President's Fellow. She is the author of Scenes of Subjection: Terror, Slavery, and Self-making in Nineteenth Century America and Lose Your Mother: A Journey Along the Atlantic Slave Route. She has published essays on photography, film and feminism and is beginning a new project on photography and ethics. The symposium concluded with a lively debate about categorization, disciplinarity, empire.