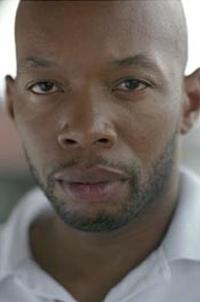 Marlon Griffith is an artist whose practice is based upon a reciprocal dialogue between Mas (the artistic component of the Trinidad Carnival) and art as a means of investigating the phenomenological aspect of the embodied experience: it is situated at the intersection of the visual and public performance.
Through this he has created installations and performance-based works which operate outside the context of Mas which look at fundamental questions in perception and how these actions respond to contemporary culture outside the traditional pitfalls of representation, which has been displaced by the empty glamour of recent incarnations. In his refashioning of carnival forms, the work challenges both the commercialization of Trinidad's rich traditions of performance and their various appropriations by both Afro- and Indo-Trinidadians.
Through this work he is able to use symbols that define Caribbean society and social groups, which are stripped down to their basic form and abstracted to create new images and narratives that are both public and participatory that respond critically and poetically to the socio-cultural environment which powerfully evokes the uneasy tension-filled interdependency between competing social groups that shapes contemporary Caribbean societies.